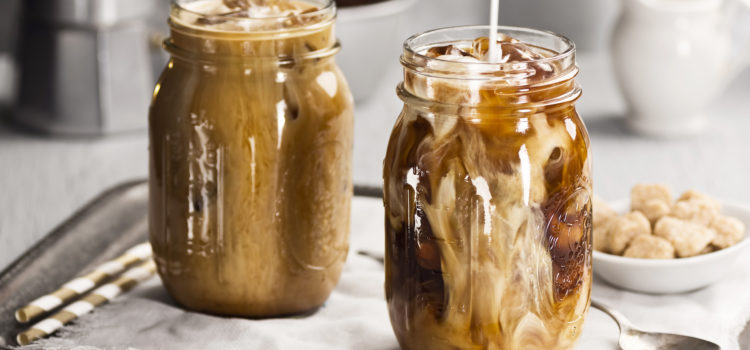 When my sister introduced me to iced coffee, I didn't think I'd like it. Not only did I like it, I decided I could...

When my sister introduced me to iced coffee, I didn't think I'd like it. Not only did I like it, I decided I could learn how to make iced coffee on my own. I became obsessed with iced coffee. You need to get your cold caffeine on. Now the fix just got so much better. Let me tell you 5 great ways to make Iced coffee at home.
Iced coffee is my life. When I wake up, often around the time party animals on the west coast are just heading home, I start each day not with a cup of freshly brewed hot java, but with a tall, blessed glass of creamy iced coffee in a glass. I've been an iced coffee junkie for years and years. To say I couldn't live without it is an understatement. It gives me the tools I need to cope.
Iced coffee is a complicated thing, and there are many different approaches. One would think that one could merely pour brewed coffee into a glass full of ice and call it a day…but I find that method extremely flawed. First, no matter how packed with ice the glass is, once the hot coffee hits, some of the ice is bound to melt. This has two disastrous results. First the The overall strength of the coffee flavor is diluted. Then iced coffee isn't as cold as it could (or should) be. The finished glass of iced coffee should be frigid, not sorta cold with half-melted ice cubes floating around. Do I have a Solution, yes cold brew.
Cold Brew
First, find a bag of the strongest coffee you can find. I like to use Cafe Busto's dark espresso. Pour in the coffee to a large container, 3 gallons at least. Add 2 gallons of cold water. cold water… Mix and cover the container. Let this sit in your fridge for 12-24 hours. When the time has passed, grab a separate container and place a fine mesh strainer over the top.Place a couple of layers of cheesecloth inside the strainer. Slowly pour the steeped coffee through the strainer. Be patient it will take a little while to seep through. Use a spoon to gently press/force the last of the liquid through. Transfer your coffee gold to a new container. This amount of coffee concentrate lasts me a good three weeks to a month if kept tightly covered in the fridge.
Flash Brew
Not your cup of coffee? we you are wrong, but try the Flash Brew method and see if that is more your unrefined style. People who love the nuances of hot coffee and those who drink their coffee black will gravitate towards flash brew for keeping the same profile of a hot cup of coffee while adding that extra oomph. Here are a few tricks to getting the perfect iced coffee, flash brew-style:
Brew your hot, fresh coffee. Make it stronger than usual; you'll be diluting it with ice. The strength of the brew depends on how many ice cubes you plan to use.
If you want sugar in your coffee, add it now as the granules tend to dissolve more easily in hot liquid.Transfer your freshly-brewed coffee into a carafe. Let the coffee cool to room temperature (approximately one hour), then move into the refrigerator for a further two hours to thoroughly chill.Fill a tall glass with the chilled coffee, add a few ice cubes plus milk or cream, if preferred. Stir well and serve.
Use a full-bodied coffee to avoid tartness
For an iced coffee with a sweet, creamy, and/or chocolate flavor profile, go with a roast from Guatemala, El Salvador, Costa Rica, and Honduras. Think cream soda on the rocks!
For a refreshing tea-like iced coffee with fruit notes go with an Ethiopian or Kenyan roast. The fruit flavors will pop on ice.
Vietnamese Iced Coffee
Vietnamese Iced Coffee is a very strong coffee. This intensely brewed concentrate is creamy, rich, smooth in texture and has a bold flavor. Here is how to make Vietnamese iced coffee without using Vietnamese coffee filter.To make this coffee, any type of coffee grounds can be used. In Vietnam, the Cafe Du Monde French Roast Chicory is usually appreciated as the benchmark. But, as long as the coffee is light to medium coarse, it can be used in the preparation of this coffee. It is easy, Fill a tall glass with ice cubes. Pour the freshly brewed coffee in the glass.Pour 2 tbsp condensed milk on top and mix gently. Serve immediately.
Not Enough Time, Try Instant Iced Coffee
You know how you've always been told that instant coffee had to be made hot? Well it also makes iced coffee! Just mix cold water with instant coffee grounds, add some creamer, and stir. It can take a minute or two for the coffee to dissolve, but it does!
Keitel Style
I hoped you picked up some good Iced coffee ideas and skills. Iced Coffee on a hot day can pick you up and set you free. Lets be honest though, There is only one way to drink coffee, Keitel style. Hot, lots a cream, lots a sugar.