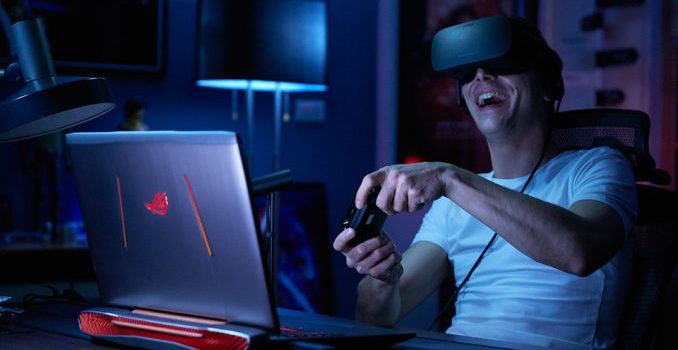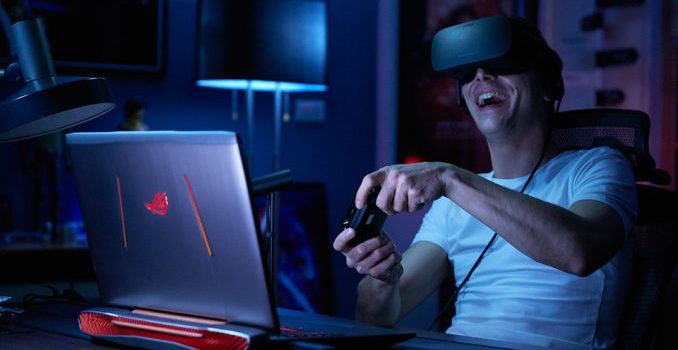 I have a top of the line power computer with a 40 inch monitor at home. What good does that really do me when...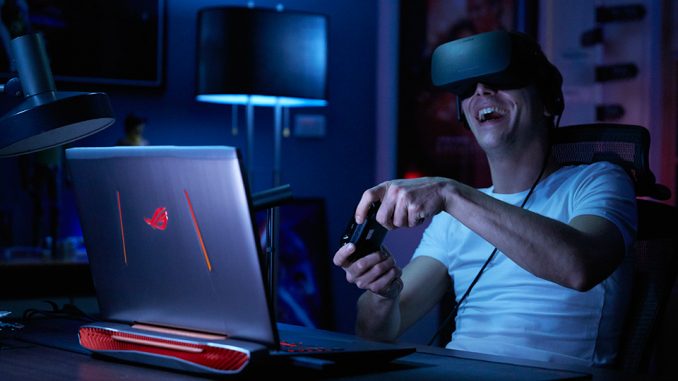 I have a top of the line power computer with a 40 inch monitor at home. What good does that really do me when Im not home. When you need a powerful rig you can take with you, there's no substitute for a VR gaming laptop.
Gaming laptops come in all shapes and sizes, for different needs and budgets. Some come with full-size Nvidia GeForce GTX graphics cards, while others go for the more efficient Max-Q designs that enable thinner chassis and quieter fans. While many gaming laptops come with 1080p display, some opt for 4K models.This holiday season there are a number of sales, let look at some of the best VR gaming laptops.
Evaluating VR Laptops
There are a few key components you want to evaluate for your VR laptop. Here is a quick break down.
Processor:- You will use this VR ready laptops for gaming or photo/video editing work so it must have a powerful processor to handle your heavy task. So I suggest you go for latest Gen i7 processor, below all the laptops have latest 7th Gen i7 processor.
RAM:- To handle high-end games and also to handle your intense gaming session I suggest you go with at least 16GB of RAM. To give you a smooth experience without slowing down your machine while you are playing games or doing heavy multitasking laptop wants that much RAM if it is more than 16GB then it's good.
Dedicated Graphic Card:- For any VR Ready laptops required a high capacity dedicated graphics card to provide you a great gaming or visual experience.
Storage:- If you are buying this VR ready laptop for a gaming, photo/video editing work or anything else its depends upon your work how much storage space you want.
Cooling System:- A cooling system helps to keep the laptop cool in a long session while you are working, doing heavy multitasking work or intense gaming session. This cooling system helps you in a several ways like it saves your system from overheating, protects expensive components of laptop and helps to avoid surprise shutdowns or any lags issue.
Dell's Alienware 17
The Alienware 17 (starting at about $1,479) comes equipped with up to an NVIDIA GTX 1080 with 8GB of GDDR5 VRAM, which is pretty much bananas. The GTX 1080 is near the very top of the NVIDIA line and will have no problem running your Rift or Vive. The 17.3-inch display is available in 1080p, 1440p, and 4K configurations, each costing a bit more than the last. Each display does look beautiful, so if you're looking to save some bucks, here's where you can get away with it without affecting your VR experience — you won't be looking at the screen much anyway.
If you're into overclocking, the 7th-generation Intel Core i7-7820HK quad-core processor can be boosted up to a 4.4GHz clock speed; again, keep in mind this crazy performance is coming from a laptop. With up to 32GB of DDR4 RAM and a big solid-state drive (SSD), you're sure to have a great VR gaming experience with the Alienware 17 VR gaming laptop. Its big, and may be a lot to handle in the coach section of an airplane. There is always the 15 inch model as well.
MSI GE62VR Apache Pro VR Ready Gaming Laptop
As we all know MSI is one of the well-known brands for gaming and without MSI laptops gaming laptop buying guide is incomplete so here is MSI GE62VR Apache Pro. If we talk about its internals then it has include 7th Gen Intel Core i7-7700HQ quad core processor which provides you a faster performance. This MSI laptop paired with 16GB of RAM and houses with 128GB of SSD + 1TB of HDD drive. For a better visual experience, it has dedicated 6GB of graphic card from NVIDIA's Geforce GTX 1060. The laptop has got 15.6 inches full HD display with 1920 x 1080 resolution.
It's SteelSeries, Dragon Center and other gaming features which are integrated well with your VR gear so it will give you an amazing gaming experience. It's Cooler Boost technology helps your system to stay cool, so it will maximise the performance of your VR gaming laptop while you are playing an extreme gaming.
Razer Blade 15 VR Gaming Laptop
Last buy not least is my favorite VR gaming laptop. The Razer Blade 15. The standard Razer Blade has been redesigned, now with a 15.6-inch display and new hardware inside. There are a few configurations to choose from, but for about $2,130 you can grab an 8th Gen Intel Core i7-8750H CPU, 16GB of RAM, a 256GB SSD, and a NVIDIA GTX 1060 Max-Q GPU. Want more power? Go with up to a GTX 1070 Max-Q GPU to push it over the edge. With all models, you'll get for ports HDMI, USB-C, and three USB-A 3.1, perfect for connecting VR.