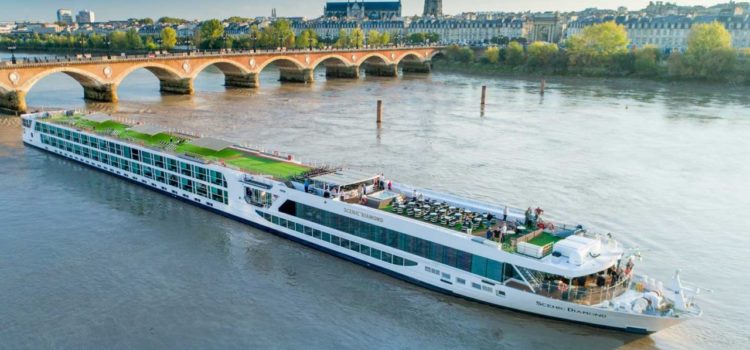 From remarkable Dutch tulip fields in the spring to Germany's magical Christmas markets and loads of other renowned cities and landmarks, European river cruises...

From remarkable Dutch tulip fields in the spring to Germany's magical Christmas markets and loads of other renowned cities and landmarks, European river cruises offer wonder and  whimsy for all travelers.
Unlike ocean cruises that offer "sea days" with plenty of time to relax, voyages along European waterways include a stop each day with a busy itinerary. With lots to see and do on a daily basis there is not as much downtime at sea as you might expect. Most of the European river cruises are a week long. Some stop in three countries,  while others offer longer trips that can last 10 days to two weeks or more.
They almost always start in wonderful destination cities such as Paris, Amsterdam and Budapest. Lets take a look at some of the Top European River Cruises.
Crystal River Cruises
Crystal Cruises blew the world of river cruising away  in 2016 with the launch of Crystal Mozart. An antique vessel completely refurbished to Crystal's exacting standards and offering a product like no other. With New Ships,  Bach, Mahler,Debussy , and Ravel all added in the last year, there are a plethora of great options.
Crystal River Cruises aims to redefine river cruising. The exteriors of its ships are the same as most other river cruisers, with the exception of Crystal Mozart, which is double the width of the standard river cruiser. The others are all the same width and length as most river cruisers operating on the rivers in Europe. Where Crystal's River ships differ is in delivering Crystal's renowned luxury product. The company has had more than 25 years to perfect its luxury travel experience on the high seas, and so it was well-prepared to adapt its award-winning product to the rivers.
Specializing in the most luxurious Danube River Cruises, truly amazing amenities are aplenty on these ships.  Exemplary service is among the most distinguishing aspect of the Crystal River Experience, delivered by European-trained professionals who are selected for their winning personalities and unparalleled expertise, who also happen to share your passion for world discovery. This is the top European River Cruise available and is worth every penny.
Scenic European River Cruises
Scenic is the most expensive European River Cruise line. With Cruise in most European Rivers including the Rhine, Main, Moselle, Seine, Rhône, Douro, Volga, Mekong, and Irrawaddy. With meticulously planned itineraries, unforgettable onshore excursions and all drinks and dining included in the price of your cruise, there really is no better way to experience the rivers of Europe and immerse yourself in the history and culture that lines its banks.
Scenic's 'Space-Ships' boast some of the largest suites on the European rivers. With a wealth of luxury facilities, it includes a spacious wellness area, complimentary WiFi connectivity, electric bikes, five exclusive dining venues and a spacious sun deck. The décor is fresh and contemporary. The all-inclusive pricing includes complimentary drinks all day, every day, tipping, flights, transfers and an interesting program of shore excursions.
Viking River Cruises
As the world's leader, no one offers European river cruises like Viking. You can traverse through enchanting vineyards along the Moselle River, and they even offer  Rhône River Cruises. The fabled Rhône is lined with vestiges of a rich Roman past. The cruise courses through picturesque Provence, cultivating renowned vineyards and vibrant wild flower fields.
The suites in Viking River Cruise's lovely longship boats are best-in-class. Nine suites on each ship have both traditional balconies and wall-to-ceiling "French verandas". They open the bedrooms completely to the passing views. The two Explorer Suites on each vessel measure 445 square feet. That is huge in river world standards, and they also have 270-degree views and wraparound balconies.
Riverboats, particularly those that ply Europe's waterways, all have to hew to the same size standards. This is  because of low bridges and tight locks. But the simple Scandinavian design of Viking's nearly 50 newly built longships makes the best use of space we've seen. They don't feel cramped, and they have a lovely indoor/outdoor dining area, the Aquavit Terrace.
AmaWaterways
Travel to legendary destinations on a 7-night cruise from Vilshofen to Budapest. Explore a 2,000 year-old city, savor Wachau Valley wines, and experience the timeless beauty and fascinating history of Vienna and Budapest. The line offers a stellar series of wine-themed cruises that celebrate the varieties of the region, be it the grüner veltliners along the Danube, the reds of Bordeaux, or the port of the Douro region. Off ship, there are visits to local wineries and cellars, with tastings; on ship, U.S. winemakers provide tastings of their own wines alongside locally produced vintages.
At the intimate 28-seat Chef's Table, the food on AmaWaterways, the only river line to be a member of the prestigious Chaîne des Rôtisseurs, is superbly prepared and plated. Menus reflect the regions the ships pass through. They are sensitive to dietary restrictions, and are complemented by such onshore experiences as restaurant takeovers.