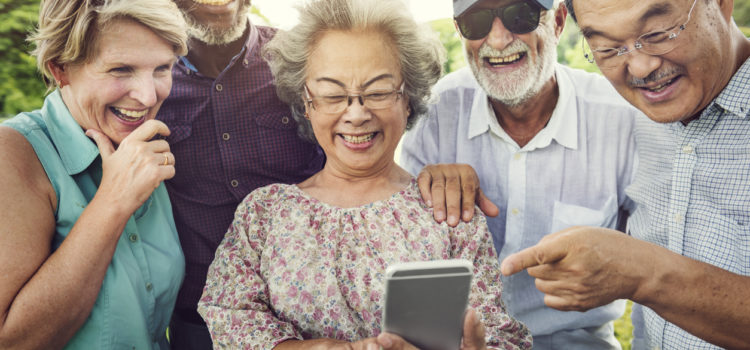 Some of our older generations are still hesitant to jump onto the latest tech. Who could blame them?  Some of this stuff seems terrifying if...

Some of our older generations are still hesitant to jump onto the latest tech. Who could blame them?  Some of this stuff seems terrifying if you don't understand it. Take the A.I. assistants for example. It's hard to wrap your head around a strange voice in a box listening to everything you say. I'm talking about senior cyberphobia.
Cyberphobia is a real condition among our seniors today. Cyberphobia is the fear of computers or working on a computer. Senior Cyberphobia is a combination of cyberphobia and a disconnect with how tech operates. Attempting to overcome this phobia often leads to frustration and tech abandonment.
Rejecting the tech can leave you aging at a much faster rate. Doctors are even going as far as to say the health risks for those who remain technologically and socially disconnected are close to smoking and obesity. It doesn't have to be this way, as tech has come a long way in the last decade and can really improve the quality of life for seniors. Today we are going to talk about a few crucial pieces of tech that every senior should consider, as well as a crash course on how to use them.
Apple Watch
I know you think this tech is way beyond your level of comprehension. That is just not true. The Apple Watch, while it has some fairly advanced functions right out of the box, it is actually pretty basic and easy to use. It has many of the functions you would find in a medical alert bracelet, just a lot better. Like the fall-detection technology that works with the help of an accelerometer and gyroscope. The tech will work to identify when hard falls occur; then if you remain on the ground for a certain period,  it will even call for help.
Apple says it does this"By analyzing wrist trajectory and impact acceleration, Apple Watch sends the user an alert after a fall, which can be dismissed or used to initiate a call to emergency services." According to Apple "If Apple Watch senses immobility for 60 seconds after the notification, it will automatically call emergency services and send a message along with the location to emergency contacts."
Echo Show
If seniors like you can get past the idea of talking to a robot, the Echo Show is an excellent way to video chat very easily. You are probably always saying you don't see your grandkids enough. Well, with simple set up, you can easily say"Alexa, Call Jaxon," and boom – you are looking at a live feed of your grandchild and hearing all about his day. Receiving calls is just as easy, Alexa will clearly state who is calling, and you just say answer or ignore.
There is a great safety feature too; you can set up a password that will alert certain selected loved ones to "drop-in" and check on you via the video feed. With simple set up, Alexa and the Echo Show can read the news to you daily, play games and music with you, and even get you sports and weather updates – all automatically.  The Echo Show has an easy to see 7-inch color touchscreen and is available at Amazon.com for $230.
The Colombo Method
I bet these are starting to sound pretty enticing, but you might be worried that you won't be able to use them. The most significant disconnect with seniors and their ability to learn tech today is the process in which seniors learn to do things. They were taught from a young age that everything has an order or set of steps involved. You start with step 1, then 2, and 3, and you memorize these steps.  This is not the case with technology. You cannot remember how an entire smartphone or computer works, the order, as the steps can be different based on any number of variables.
When you look at your computer or smartphone, you need to think like Columbo. "What is there that wasn't before, what is not there that was before, and what has changed?" Keeping a flexible mind and knowing the device only does what you tell it to do will help keep any frustration at bay. The most important thing to remember is that you can break anything by pressing the wrong button.
All tech has a "home" button, so if you find yourself at a place or screen you don't understand or didn't intend to go to, just go home and try again. Try to have fun, and realize that you are in complete control.  Your device may not do what you "want" it to do, it will only do what you tell it to do. And one more thing… don't forget to simply play around!  You will be surprised at what you can do and learn.