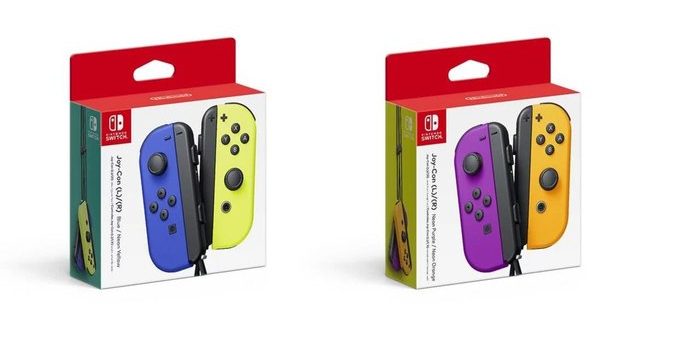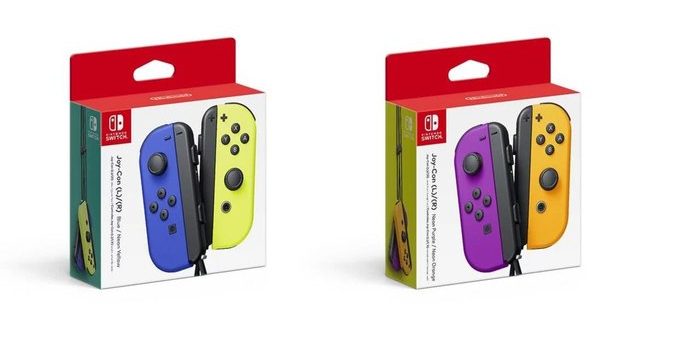 Only a short week after unveiling the new Switch Lite system, Nintendo has announced two new pieces of news for their incredibly popular hybrid...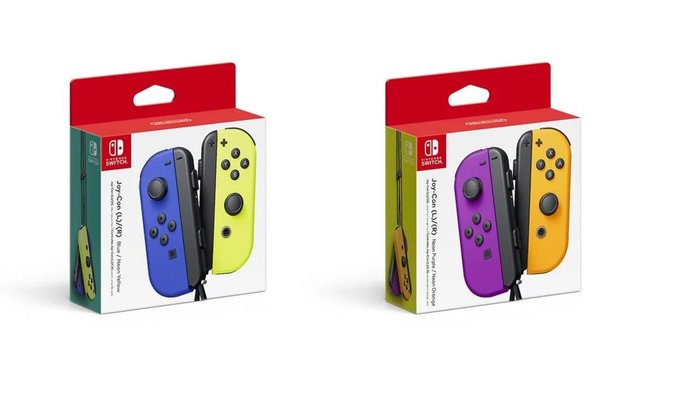 Only a short week after unveiling the new Switch Lite system, Nintendo has announced two new pieces of news for their incredibly popular hybrid console. The first is that there are two new color combinations for Joy Cons coming soon. The second is that an upcoming hardware refresh for the original Switch will have dramatically better battery life.
Switch News
New Joy Cons
The new Joy Cons fill in a few more of the two-tone color combinations for Nintendo's unique Switch controllers. There's a blue and neon yellow pair, making for a great contrast. Interestingly, the neon yellow Joy Con has been seen once before, though it was bundled with another yellow Joy Con as a promotion for the fighting game game ARMS.
The second new color pair is the Neon Orange and Neon Purple pair, both brand-new colors for the system. Notably, these are landing on October 4th, meaning they'll be here in plenty of time for Halloween. This is notable in no small part because Luigi's Mansion 3, one of the most hotly anticipated Switch titles of the year, is dropping on October 31st to coincide with Halloween!
Updated Switch Hardware
While we love our Switches, they have one glaring weak spot: they don't sport amazing battery life. While the system is great for carrying with you on your work commute, it's not amazing for long road trips if you forget the charger. Thankfully, Nintendo has a solution to this problem.
Starting in August, a new batch of original Switch consoles in new packaging will start appearing on store shelves. These have an updated, more efficient chipset that will allow for between two and half to nine extra hours of battery, depending on what you're using the system for. The new Switch models will be easy to tell apart, as they'll be sporting a serial code starting with XKW instead of XAW.
Potential Changes
The updated chipset in the original Switch comes as no surprise: Nintendo issued a patent for such a design a few months ago. Likewise, this chipset is likely similar to the updated, more efficient Tegra chipset we'll be seeing in the Switch Lite in September.
A particular thorn in Nintendo's side over the two years the Switch has been on the market has been pirates and hackers using a hardware exploit to "jailbreak" their switches. This has allowed some hackers to illegally play duplicated copies of Switch games, a situation Nintendo has cracked down on. It's likely the updated Switch model will have some methods of preventing this type of hacking.
Switch Pro Rumors
Rumors of a completely-updated Switch Pro have been swirling since a few notable publications confirmed that Nintendo had plans for both a lighter, smaller Switch and an updated and beefier version of the console. We know, now, that the rumors for the smaller Switch were accurate, as the Switch Lite fits the description from those earlier leaks. However, the beefed-up "Switch Pro" remains a big mystery.
It's theoretically possible that this hardware refresh, with its better battery life and more efficient chipset, could be the rumored "beefier Switch."
However, many fans expect to see a more robust update to the base console soon, as the successors to both the Xbox One and PS4 are on the horizon. After all, the Switch's impressive scaling resolution and adaptive Tegra chip infrastructure allows it to easily scale games up and down for different use cases. It's not hard to envision a version of the Switch putting out a better resolution while docked and rivaling current-gen hardware.