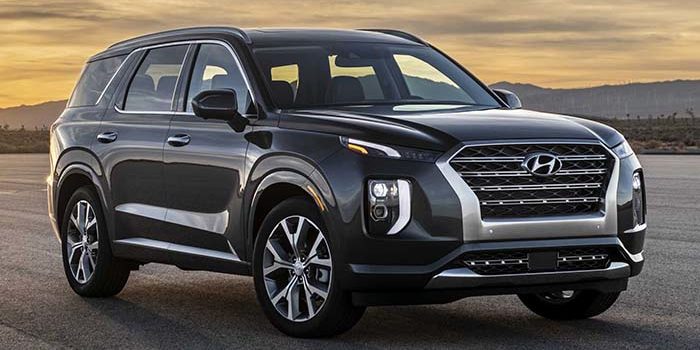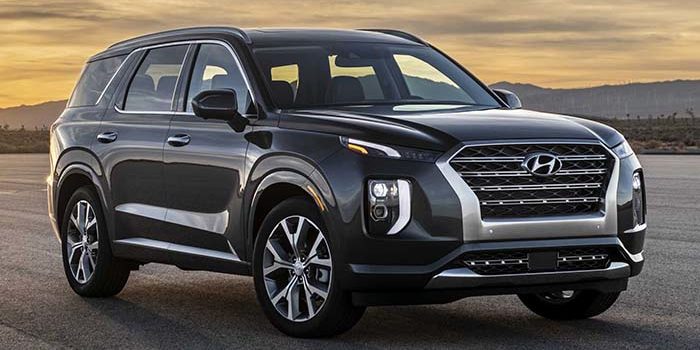 For those looking to cart a whole bunch of kids and adults all over town, having a three-row SUV is a must. However, most...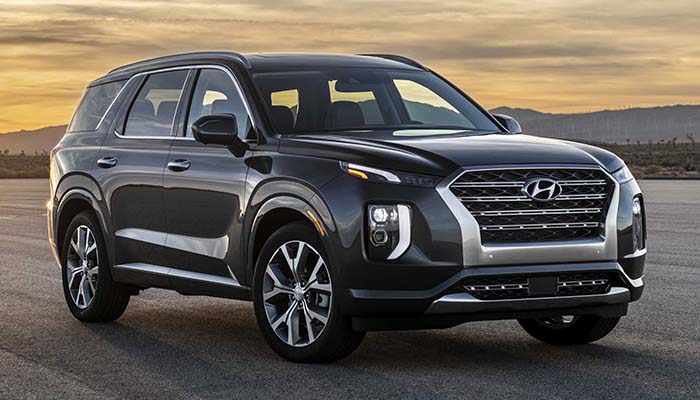 For those looking to cart a whole bunch of kids and adults all over town, having a three-row SUV is a must. However, most three-row SUVs are a little boring in appearance and a lot boring to drive. That's why the newest offering from Hyundai, the Palisade, is exciting: despite being a massive SUV that can seat the whole family, it's also got tons of luxurious tech and a great ride. Let's take a closer look at the newest family-mobile from Hyundai.
2020 Hyundai Palisade
Design
Much like other new Hyundai models like the Kona and Santa Fe, the Palisade features and unusual front grille and some strange body lines. It looks decidedly strange at first glance, and hardly fits the mold of most modern SUVs. However, this isn't to say it looks unappealing: it's a rather intriguing design, with top-mounted headlights, a tapered, stair-step grille and a general "folded" feel in the design.
It's also worth noting that this car is a gigantic beat. It's actually the biggest Hyundai to ever come off the production line: it's a solid four inches longer and three inches wider than the Santa Fe XL. As it turns out, the Palisade is taking over for the retiring Santa Fe XL, as it does the latter car's job significantly better. The enormous size comes into play in a big way when you see the ample space and leg room for pretty much every seat.
Under the Hood
The Palisade is no race car, but it does offer some excitement under the hood. The 3.8-liter engine is a V6 with a surprisingly attentive eight-speed transmission. The engine will surprise many drivers with its 291 horses and 262 pound-feet of torque, offering up smooth and responsive performance. Acceleration is ample but not jarring, offering a smooth ride that keeps the kids in the back from feeling like they're on a rollercoaster when you need to get up to highway speeds.
As you're likely not interested in burning up the roads in the Palisade, this is likely all good news. The smooth performance from the engine feels like it was tailor-made to keep spills and motion sickness in the back to a minimum. While the Palisade is significantly more stylish and fun than a minivan, it clearly knows its place in the world as a kid-friendly family-wagon. It gets a respectable 19 MPG in the city and 26 MPG on the highway, making it pretty standard for a "mid"-sized SUV.
Interior Comforts
One of the most important things when it comes to a three-row SUV is the comfort level. The cabin needs to not only be comfortable for the driver, but also the passengers. While the kids need tons of room for all their toys and car seats and whatnot, the driver also wants a suitably peaceful and comfortable cabin for when they're dealing with all the kiddos. That's where the luxury of the Palisade comes in.
If you opt for the Limited trim, you get quilted Nappa leather, though all trim levels get heated first- and second-row seats. The second row is elevated for better visibility, which is great for kids who can get car sick to be able to look straight ahead. All in all, the Palisade punches way above its weight class in terms of cabin comfort. While this isn't priced or marketed as a luxury vehicle, it does sport luxury-feeling materials, especially at the limited trim level.
Bottom Line
If you're looking for a kid-hauling family SUV that feels luxurious without a luxury price tag, the 2020 Hyundai Palisade is a fine vehicle. Between the stylish design, smooth engine performance and gorgeous interior, it's hard to go wrong if you're looking for a good way to schlepp the kids around town.